Buffett gets his way again
We lost in a 6-1 vote against the people who spoke. Rodney Walker was the one vote to oppose Buffett's influence on our town.
A dozen or more people spoke, opposing the move to take Buffett's money to hire a full-time DUI officer. A common fear among speakers was: The DUI officer will be used to target marijuana users, and disproportionately affect African American people. The 2018 IL Traffic Stop Study has some appalling information to this point.
The turn out was impressive. People were upset. But they were well spoken. They had good stories to tell. One gentleman spoke to council about what it feels like to be targeted, pointing out that 6 (white) council members don't know what it's like to be targeted like he (a black man) has been. This was a common sentiment among African American speakers. A lot of facts were also shared... and disregarded.
When police Chief Getz presented his perspective, council-person Bill Faber asked him a series of leading questions. It was sickening to watch as Faber led the conversation in a manner to make all the speakers sound like fools. He twisted our perspective and insulted everyone there, while being remarkably polite.
A common defense among Buffett proposal supporters was: We just want to protect people. The DUI officer will go after all DUIs, not just Marijuana DUIs. The DUI officer will free up resources for other officers to go after more important things.
In a town of 70,000 people, will one DUI officer make a real difference? Will minorities and low-income individuals be targeted? And most importantly, is Buffett paying our city to drive his personal agenda against Marijuana?
Is this Buffet's Decatur?
Buffet wants to pay $500,000 to hire a full-time DUI officer in the marijuana-friendly new year. He has sent a proposal to council, and they appear ready to approve it, without a second though. Facts and Solutions below
The content below is from Dec 16th & will be updated soon. (updated Dec 17)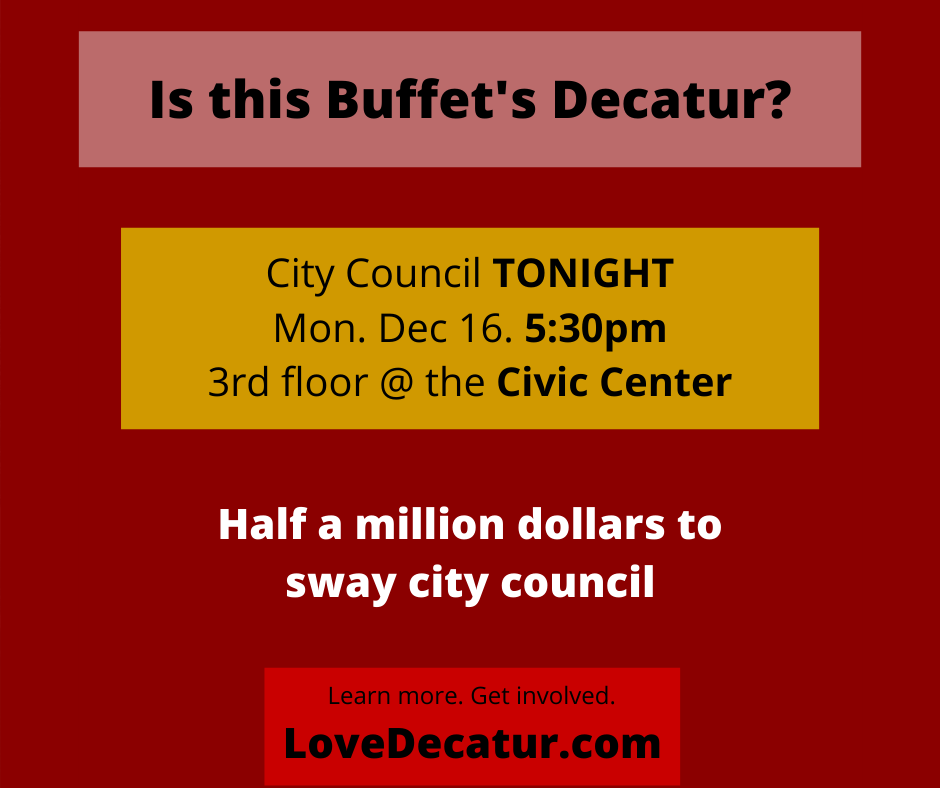 Take Action
I don't currently know the next steps to take. I will try to update this soon. (updated Dec 17, 2019)
Buffet's Proposal
Buffet wants to give $500,000 to the Police Department for a full-time DUI Officer, who is not allowed to perform ANY other police duties. This donation could also put the city on the hook for an additional $148,458.
City council votes on this TONIGHT, Monday Dec 16th, @ 5:30PM. Here is the full agenda and the grant agreement resolution.
READ THE Full Proposal
Here are some noteable quotes from the proposal:
This officer at no time in the future will be used to supplement regular DPD staffing or to supplant a DPD staff position.
This DUI/DRE Officer must be 100% committed to DUI/DRE activity for all four (4) years.
must be applied only to the expenditures described in the attached budget submitted to the HGBF totaling $648,458
requiring DPD to make up the estimated difference of $148,458.
funds (from another "grant") may be used to "true-up" the final expenses in the fourth year (approximately $148,458) for the DUI/DRE Officer position.
Previously, we stipulated that these funds could not be used to fund salaries; however, if DPD is using them to fulfill another HGBF grant that will be the only exception.
By accepting these funds, the DPD agrees to submit a report to the HGBF on an annual basis summarizing the financial expenditures for each year and the results of the grant (such as citations and DUI/DRE arrests) through the conclusion of the project
Read more on Herald & Review or WAND
This is not democracy
Buffet spoke publicly against marijuana, stating "The biggest thing for law enforcement is, you're going to have to replace all of your dogs." His private foundation paid $2.2 million in 2016 to support K-9 units in 33 counties across Illinois. (src H&R)
Howard Buffet has spent a lot of money changing Decatur to his wishes. He invested $30 million in a drug-treatment facility, allegedly aimed at treating drug addiction, while his father has significant stock in Teva Pharmaceuticals.
CHUCK KUHLE said �I personally can�t think of a more flat-out rejection of our former sheriff and his foundation than to approve the sale of recreational marijuana without a wait-and-see approach� (src H&R)
Current Sheriff, Chubby Brown, Crossing Healthcare CEO Tanya Andricks, and Dana Ray, a physician at Crossing & former city council woman, all opposed dispensaries. (src H&R)
Kuhle, Gregory, McDaniel and Mayor Wolfe opposed referendum which would have allowed the public to vote on dispensaries on the 2020 election ballot. Bill Faber suggested the referendum. (src H&R)
Lisa Gregory, Pat McDaniel, Chuck Kuhle and Mayor Moore Wolfe also opposed tabling the vote for a later time, which would have allowed for more public comment
"Kuhle and Moore Wolfe, in explaining their decisions, both made mention of the $70 million drug treatment and social services campus being built north of downtown near the Wabash Crossing neighborhood." (quote taken from Analisa Trofimuk on Herald & Review)